Residential Smart Energy Storage
Weather the storm
Losing power isn't fun. The average power loss duration in the US is 8 hours and increasing. You don't have to go without power during emergencies. Our essential Lion Sanctuary energy storage solution is a perfect option for 95% of the power outages, keeping your essentials (e.g. fridge, lights, outlets, furnace, and WI-FI) running for the duration.
For residents that live in higher risk areas for hurricane or flood zones, the average power outage duration is roughly 25 hours. We've got you covered with expandable options of the Lion Sanctuary.
The perfect system to give you critical energy backup for those unforeseen power emergencies.
CONSTANT STORAGE
Grid, gas generators, panels, wind turbines, all produce energy that is pushed to our incredibly safe lithium iron phosphate battery storage system.
Our expandable and maintenance-free battery storage system holds energy for when and where you need to use it, creating a perfect 24/7 energy backup for your home.*
FLEXIBLE OPTIONS
You decide the size of your backup system. You can be prepared to cover just your essentials for the duration of an outage or power everything in your home for longer.
Proprietary software monitors the level of your energy storage and pulls power from the least expensive source at the best possible time, so you are always efficient with your power usage.*
24/7 AVAILABILITY
Use the right amount of power at the right time. Even "fill up" portable energy sources so you can have power remotely.
"Time of use" allows you to reduce the cost of your energy by powering up the Sanctuary during lower-cost times and using it during higher-cost periods.
Be protected 24/7. Have peace of mind.
* Lion Energy does not sell home solar panel systems. To add solar to integrate with your Lion Sanctuary system, please contact a licensed provider in your area.
Smart Energy Storage
The Lion Sanctuary dramatically reduces energy cost when either paired with solar panels or in areas that have peak billing.
Solar panels typically are most efficient during periods of lower demand. Pairing solar panels with the Lion Sanctuary stores energy during the day for use during peak usage time in the evening and early morning.
In areas where energy costs have peak and off-peak billing times, the Sanctuary can be set to collect energy from the grid during off-peak times for use during peak hours, thus mitigating energy costs.
Top-quality technology
Smart Energy Storage is built using our proprietary technology of:
Lithium iron phosphate battery storage
Cutting-edge inverters
US-based engineering that interweaves monitoring software
Easy-to-use app technology
Ready to use anytime and anywhere
---
Compared to old tech that required:
Fossil fuels in form of gas or natural propane
Dangerous health-hazardous from fumes and fire issues
Maintenance to ensure your system is ready to use
Scarce availability of resources in an emergency
Negative environmental impact
"The Lion Sanctuary is a perfect solution to integrate a smart energy storage system with our current centralized electrical grid."
—Tyler Hortin, President of Lion Energy

Is Sanctuary Right For You?

Are you looking to protect yourself and your family in the event of a power loss?
Are you looking for a SAFE power solution that is maintenance-free?
Are you looking to add value to your home?
Are you looking for peace of mind?
Do you want to do your part to help our current energy crisis by implementing a smarter and more efficient use of energy?
Get an estimate
Get an estimate of what size of system you might need. Using data like state average power cost and your monthly power bill, we can estimate how much power you use on a monthly basis. We can then determine if you need the "essentials back up" or "whole home back up".
Through our online estimate process, we can take a complicated process and give you a simple solution or you can chat with an expert.
Advanced Design
With easy installation and a minimalist design, the compact, all-in-one construction features versatile mounting options for being mounted indoors, eliminating the ugly curb appeal issues with a large battery system attached to the outside of your house.
By using lithium iron phosphate, it is possible to install the Lion Sanctuary indoors. Other backup systems often use a lithium NMC design that can be combustible and should be installed on the outside of a structure.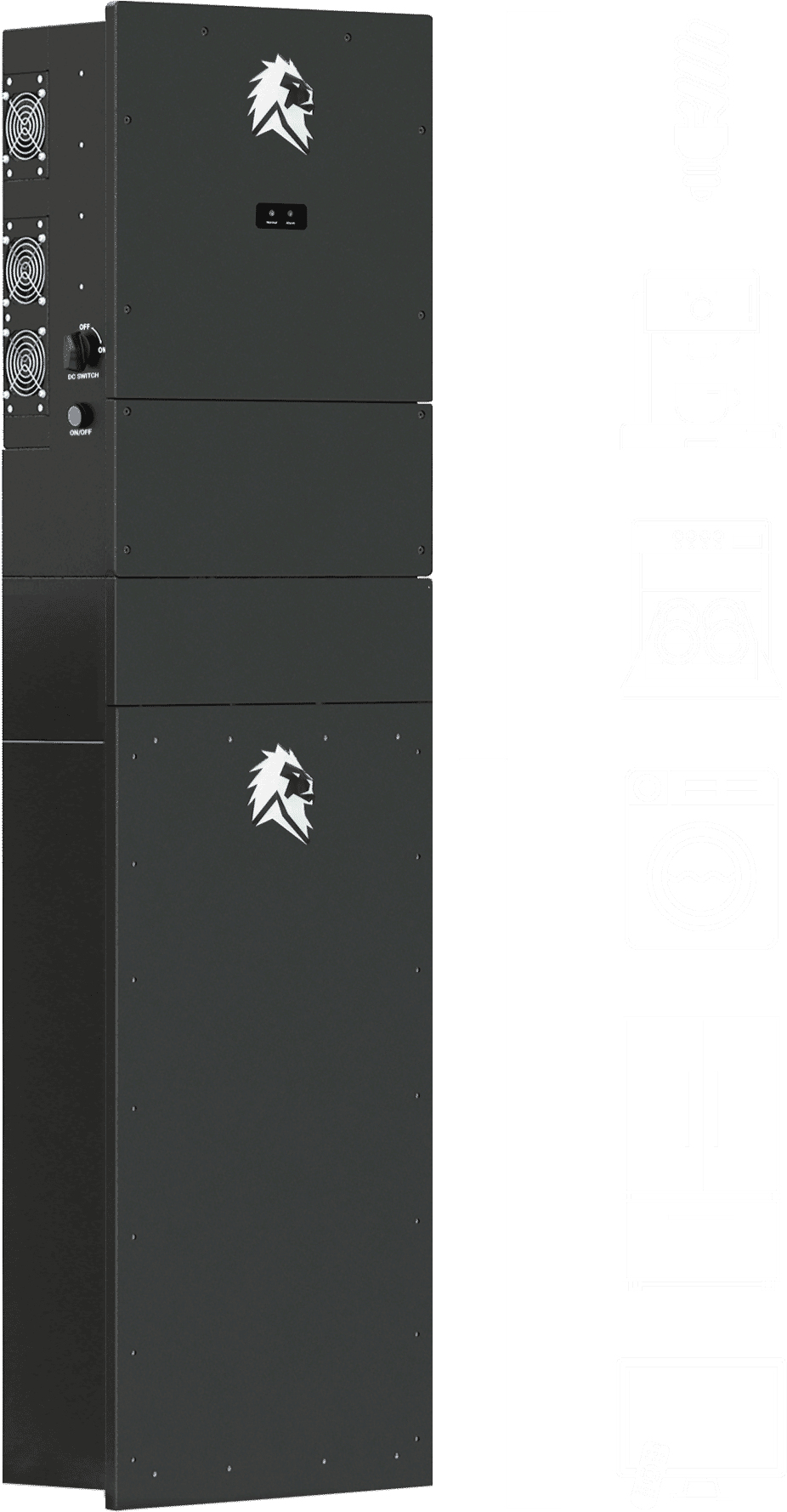 Energy Capacity
13.5 kWh per unit
Backup Power
8 kW continuous
Size and Weight
66.55 in x 18.5 in x 9.75 in (L x W x D)
347 lbs
Inverter
DC to DC inverter efficiency: 96%
Round-trip efficiency: 86%
Max solar input: 10.4K
Installation
Integrated inverter and system controller
32°F to 86°F
Water and dust resistant
Certification
Meets North America safety and EMI standards.
Meets the most stringent safety protocols (UL9540), which includes UL1741 for the inverter and UL1973 for the battery (lithium iron phosphate or LiFePO4).
Warranty
10 years and an optional upgrade to a 25-year warranty.
Better capabilities. Better solution.

The Lion Energy Sanctuary is the only lithium-based backup system that comes with installation included (reducing unexpected costs on the back end of the purchase) and comes standard with an inverter while others may only provide the battery. The Sanctuary has better energy capacity, max peak load, and max continuous load than the competition. In all, the Sanctuary gives you the most complete package for your emergency backup at a comparable price.
Battery chemistry
Energy capacity
Max load continuous
Max peak load
Round-trip efficiency
UL 9540 certificate
Life cycle
Additional equipment required
Lion
Sanctuary
LiFePO4
13.5 kWh
8 kW
16 kW
86%
X
6,000 @ 90%
No
Tesla
Powerwall 2
Li NMC
13.5 kWh
5 kW
7 kW
90%
X
5,000 @ 96%
Yes
EnPhase
Encharge 10
LiFePO4
10.5 kWh*
3.84 kW
5.7 kW
89%
X
4,000 @ 70%
Yes
Sonnen
Eco10
LiFePO4
10 kWh
8 kW**
8.5 kW
81.6%
X
10,000 @ 90%
Yes
LG Chem
RESU10H
Li NMC
9.3 kWh
5 kW
7 kW
N/A
4,000 @ 95%
Yes
* Only 10.08 kWh useable
** Only 7 kW continuous on-grid
Battery chemistry
Lion Sanctuary
LifePO4
Tesla Powerwall 2
Li NMC
EnPhase Encharge 10
LifePO4
Sonnen Eco10
LifePO4
LG Chem RESU 10H
Li NMC
Energy capacity
Lion Sanctuary
13.5 kWh
Tesla Powerwall 2
13.5 kWh
EnPhase Encharge 10
10.5 kWh*
Sonnen Eco10
10 kWh
LG Chem RESU 10H
9.3kWh
* Only 10.08 kWh useable
Max load continuous
Lion Sanctuary
8 kW
Tesla Powerwall 2
5 kW
EnPhase Encharge 10
3.84 kW
Sonnen Eco10
8 kW**
LG Chem RESU 10H
5 kW
** Only 7 kW continuous on-grid
Max peak load
Lion Sanctuary
16 kW
Tesla Powerwall 2
7 kW
EnPhase Encharge 10
5.7 kW
Sonnen Eco10
8.5 kW
LG Chem RESU 10H
7 kW
Round-trip efficiency
Lion Sanctuary
86%
Tesla Powerwall 2
90%
EnPhase Encharge 10
89%
Sonnen Eco10
81.6%
LG Chem RESU 10H
N/A
UL 9540 certificate
Lion Sanctuary
X
Tesla Powerwall 2
X
EnPhase Encharge 10
X
Sonnen Eco10
X
LG Chem RESU 10H
 
Life cycle
Lion Sanctuary
6,000 @ 90%
Tesla Powerwall 2
5,000 @ 96%
EnPhase Encharge 10
4,000 @ 70%
Sonnen Eco10
10,000 @ 90%
LG Chem RESU 10H
4,000 @ 95%
Additional equipment required
Lion Sanctuary
No
Tesla Powerwall 2
Yes
EnPhase Encharge 10
Yes
Sonnen Eco10
Yes
LG Chem RESU 10H
Yes